Making a start on a bathroom remodeling project is both exciting and challenging. It's a chance to switch things up, to replace the old, faded tiles with something fresh, a classic tile design that transcends fleeting trends. Or maybe you're drawn to the elegant touch a subway tile backsplash adds offset against bold, patterned tile flooring that reflects your personality. The shower space, a focal point in any bathroom, beckons for rejuvenation—maybe with glossy tiles that capture and distribute natural light, creating a spa-like feel.
But amidst the allure of modern bathroom aesthetics, the thought of cost looms large. How do you achieve that elegant bathroom look without draining your wallet? The key lies in making savvy tile choices.
This guide aims to walk you through just that, ensuring your bathroom remodel embodies a blend of personal style and practical choices, making every penny count.
Understanding Cost-Effectiveness in Bathroom Remodeling
Regarding bathroom remodeling, the phrase "investing right" carries much weight. It's about balancing, achieving a modern bathroom look, and ensuring the money spent brings value over time.
Let's delve into what cost-effectiveness in remodeling a bathroom entails.
Definition and Significance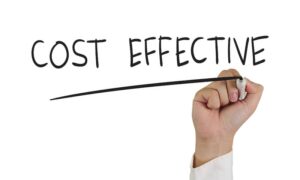 Cost-effectiveness means obtaining the best possible outcome (a visually appealing and functional bathroom) for the least amount of money. It involves making choices that provide a high return on investment in aesthetics and functionality. But why does it matter?
Bathroom remodeling can be pricey, but making cost-effective choices ensures you're not compromising quality. It's about maximizing the impact while minimizing the cost, making your bathroom a space you love without breaking the bank.
Long-term vs Short-term Investments in Remodeling
Short-term Investments
Short-term investments in bathroom renovation often involve opting for trendy yet less durable materials, such as certain patterned tiles or bold tile colors, which might be visually appealing initially but may require sooner replacement. Additionally, transitioning to a modern bathroom design by updating minor elements like brass hardware or incorporating black accents can refresh the space at a lower cost.
Long-term Investments
Long-term investments entail choosing timeless elements and quality materials. Opting for enduring styles with white subway tile, porcelain tile, or classic tile designs minimizes the need for frequent updates, maintaining a fresh look for years. Similarly, investing in durable and stylish floor tiles and bathroom tiles proves cost-effective as it not only enhances the bathroom's appeal but also withstands the test of time, saving money in the long run.
Meaning the concept of cost-effectiveness extends beyond just the initial cost. It's about considering the longevity and enduring appeal of the chosen tile design bathroom elements. Your bathroom floor, shower walls, or even the tiny hexagon tiles in the shower space contribute to saving or spending more in the long term.
Material Selection: The Backbone of Cost-Effectiveness
Material selection is a pivotal aspect of bathroom remodeling that significantly impacts the cost initially and over time. The right choice of material is akin to setting a solid foundation for a house. Let's explore the various tile materials and their cost implications.
Various Tile Materials and Their Cost Implications
Ceramic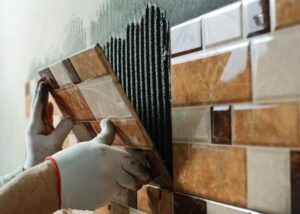 Nature: Ceramic tiles are made from clay and baked at high temperatures, making them durable and water-resistant.
Use in Bathrooms: Their water resistance makes them ideal for bathroom floors and walls. They come in various colors and designs, allowing for versatile styling options.
Cost Implications: They are generally affordable, making them popular for budget-conscious bathroom projects.
Porcelain
Nature: Porcelain tiles are also made from clay but are fired at higher temperatures than ceramic, making them denser and more durable.
Use in Bathrooms: Their durability and water resistance make them suitable for bathroom flooring, especially in high-traffic or wet areas.
Cost Implications: Although slightly more expensive than ceramic, their longevity makes them a cost-effective choice in the long run.
Glass
Nature: Glass tiles are known for their reflective quality, making spaces appear larger and more luminous.
Use in Bathrooms: They add a modern, airy feel to bathrooms, often used as accent tiles on walls or in shower spaces.
Cost Implications: They are on the higher end price-wise, but their low maintenance and reflective quality can enhance the overall ambiance significantly.
Marble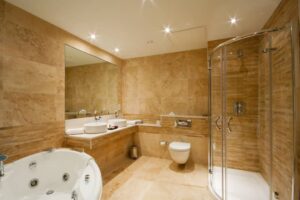 Nature: Marble is a natural stone known for its unique veins and luxurious appeal.
Use in Bathrooms: It's often used to create elegant bathroom floors, countertops, or shower walls.
Cost Implications: Marble is expensive and requires regular maintenance to prevent staining, making it a higher-cost choice.
Slate
Nature: Slate is a natural, durable stone with a rustic appearance.
Use in Bathrooms: Its durability and slip-resistant nature make it suitable for bathroom flooring.
Cost Implications: It's moderately priced but requires maintenance to retain its look over time.
Vinyl
Nature: Vinyl is a synthetic material known for its comfort underfoot and ease of maintenance.
Use in Bathrooms: It's water-resistant and comfortable, making it suitable for bathroom flooring.
Cost Implications: Being one of the most budget-friendly options, it's ideal for cost-effective bathroom remodeling.
Linoleum
Nature: Linoleum is an eco-friendly material from natural ingredients like linseed oil and cork.
Use in Bathrooms: Its water-resistant nature makes it suitable for bathroom floors and walls.
Cost Implications: Linoleum is budget-friendly and offers a variety of design options, making it a cost-effective choice.
Limestone
Nature: Limestone is a natural stone with a beautiful, earthy appearance.
Use in Bathrooms: It can be used for flooring or walls to add a touch of natural elegance.
Cost Implications: While moderately priced, it requires regular maintenance to prevent staining and etching.
Mosaic
Nature: Mosaic tiles consist of small glass, stone, or other materials, offering various design possibilities.
Use in Bathrooms: They often create intricate patterns or accents in shower spaces or backsplashes.
Cost Implications: The price range can vary significantly depending on the material and complexity of the design, from moderate to high cost.
Understanding the nature, usage, and cost implications of these various materials can guide you in making informed decisions for your bathroom remodeling project, ensuring a blend of aesthetics, functionality, and cost-effectiveness.
Maintenance Costs Associated with Selected Materials
The longevity and appearance of your bathroom floor and walls greatly depend on the maintenance of the chosen material. For instance:
Marble and limestone require regular sealing to prevent staining, increasing the maintenance cost.
Porcelain and ceramic are low-maintenance options that retain their appearance with basic cleaning.
Glass tiles require regular cleaning to maintain shine but don't require additional maintenance costs.
The material you choose will either elevate or hamper your bathroom remodeling project. Considering the long-term maintenance costs alongside the initial investment is crucial. Whether you opt for a colorful tile to brighten the space or a classic white tile for that timeless appeal, ensuring it aligns with your budget now and in the future is vital to achieving a cost-effective bathroom remodel.
Trending Yet Timeless Tile Designs
Bathroom remodeling is a delicate blend of keeping up with the trends while ensuring your choices remain timeless and appealing for years. Here's a closer look at how specific tile designs stay trendy and cost-effective simultaneously.
Analysis of Trending Designs that Are Cost-Effective
Penny Tile: These small, circular tiles are currently a hit due to their vintage charm and ability to make small spaces appear more prominent. They are relatively affordable and offer a unique aesthetic to your bathroom floor or walls.
Square Tiles: Square tiles have made a comeback, offering a neat, geometric look that's modern yet classic. They are versatile, fit well in a small or more spacious bathroom, and come in various materials and price ranges.
Natural Wood Vanity with Tile Combination: Combining a natural wood vanity with simple, white tiles is a trend that brings a warm, earthy feel to your bathroom. This combination is aesthetically pleasing and cost-effective, as it requires minimal maintenance.
How Timeless Designs Contribute to Cost-Effectiveness
Classic White Subway Tile: These tiles are a timeless choice that offers a clean, bright look and pairs well with almost any other design element. They are also affordable and easy to clean, making them a cost-effective choice for the long term.
Dark Wood Cabinets with Light Tile: The contrast of dark wood cabinets against light-colored tiles creates a visually appealing, classic look. This design choice is timeless and budget-friendly, offering a sophisticated look without a price tag.
Investing in a tile design that remains in vogue over the years without demanding frequent updates is a smart move. It enhances the visual appeal and ensures your bathroom remodeling project remains cost-effective. With the right tile choice, your bathroom can be trendy and timeless, providing a refreshing space you'll enjoy for years.
Getting the Most Out of Bathroom Tile Ideas as an Investment
Choosing the right tile design is crucial in making the most out of your bathroom remodeling investment. Here are some factors to consider to ensure you're making a wise choice
Understand Your SpaceFor a small bathroom, use lighter-colored tiles to make the space appear larger. Bathroom floor tile with a fun pattern can add visual interest without overwhelming the space.
DurabilityOpt for tiles known for their durability to withstand daily wear and tear, ensuring your bathroom stays fresh and appealing for longer.
MaintenanceConsider the maintenance requirements of the tiles. Some materials require more upkeep, which could lead to more expenses down the line.
Timeless AppealChoosing a timeless design ensures your bathroom remains stylish and up-to-date even as trends change, providing a better return on your investment.
BudgetHave a clear budget, but be willing to invest in quality where it counts, as it pays off in the long run by reducing the need for replacements or repairs.
By taking into account these factors, you can choose a design that not only elevates the look of your bathroom but also serves as a long-term, cost-effective investment, blending both style and substance.
Start Your Renovation with a Reliable Bathroom Remodeling Company
Embarking on a bathroom remodeling journey is thrilling yet can be daunting. However, with the proper guidance and a dash of creativity, you can explore tile design ideas fearlessly to create a space that resonates with your style while being cost-effective. Engaging a trustworthy bathroom remodeling company like Nu Kitchen Designs will ensure your renovation goals are achieved with expertise and precision. Their seasoned team can help bring your bathroom tile ideas to life, blending functionality, durability, and aesthetic appeal.
So, dive into this exciting venture and create a bathroom space you'll cherish for years.