It is exciting to begin a kitchen remodel, but it requires thorough planning, especially when it comes to choosing suitable kitchen cabinets. They are not just storage spaces. They are a statement of your aesthetic. Whether you lean towards custom cabinets with a luxe solid wood finish or stock cabinets for a budget-friendly refresh, the options are aplenty.
This blog delves into the varied types of cabinets and styles, from the sleek contemporary cabinets to the timeless shaker style, aiding you in finding that perfect cabinet type.
As you navigate your kitchen remodeling, let this guide you to exploring a world of cabinets. So, are you ready to open the door to new kitchen possibilities? Let's get started.
Custom vs. Semi-Custom Vs. Stock Cabinets
When it comes to kitchen remodels, the cabinets you choose significantly impact the overall look and functionality.
Here's a breakdown to help you decide between custom cabinets, semi-custom cabinets, and stock cabinets:
Custom Cabinets: Custom kitchen cabinets are a premium choice, allowing a completely personalized design to suit your unique kitchen dimensions and aesthetic preferences. With custom kitchen cabinets, you can select the material, design, color, and hardware to match your taste.
Semi-Custom Cabinets: Offering a balance between personalization and affordability, semi-custom cabinets provide a range of standard designs with the option to customize some aspects, like cabinet door styles or hardware, giving your kitchen a personalized touch without the high costs of complete customization.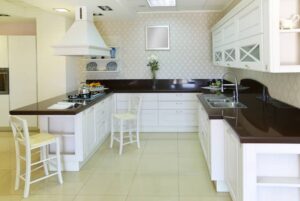 Stock Cabinets: Stock cabinets are the most budget-friendly option, available in various standard sizes and styles. They are pre-manufactured and come either assembled or as ready-to-assemble (RTA) cabinets, making them a quick, cost-effective choice for a kitchen remodel.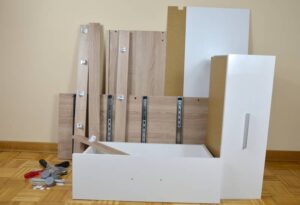 Each type caters to different needs and budget ranges, ensuring there is something for everyone. Understanding these categories will empower you to make informed decisions as you transform your kitchen.
Popular Styles of Kitchen Cabinets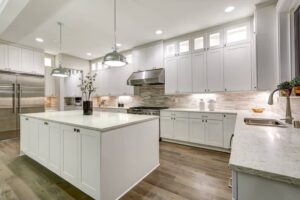 Exploring types of kitchen cabinet styles can significantly enhance the aesthetics of your kitchen. Here are some popular styles:
Shaker Cabinets: Known for their simplistic yet elegant design, shaker cabinets are versatile, suiting both modern and traditional kitchens.
However, the plain design might not appeal to those seeking a unique aesthetic.
Raised Panel Cabinets: With their rich, classic look, these cabinets add a touch of elegance. The detailed design, though, may feel too ornate for minimalist tastes.
Flat Panel Cabinets: Known for their modern, sleek appearance with a recessed panel, they're a go-to for contemporary kitchens.
However, they might lack the character and warmth found in other styles.
Beaded Inset Cabinets: These cabinets exude a vintage charm, but the detailed craftsmanship comes at a higher cost than other styles.
Slab Cabinets: Known for their sleek, modern appeal, slab cabinets are a hallmark of contemporary design. The smooth, unembellished facade created by slab cabinet doors offers a minimalist aesthetic that can effortlessly transform a kitchen space.
Each kitchen cabinet style reflects a different aesthetic, making your kitchen more aligned with your taste and the home's overall design scheme.
Material Matters for Kitchen Cabinets
When planning your kitchen cabinetry, your chosen material is as significant as the style. Different materials affect not only the appearance but also the durability and the overall cost. Here's a dive into some common materials:
Solid Wood
Solid wood stands out for its natural elegance, strength, and long-lasting nature, making it a premium choice for kitchen cabinets. It's worth noting that each piece of wood differs in color, grain, and texture, lending a diverse range of looks suitable for various styles. Commonly utilized in cabinet face frames and doors, solid wood promises a blend of beauty and durability, although it requires a higher investment.
MDF (Medium Density Fiberboard)
MDF is favored for its smooth finish and affordability. It's ideal for painting and can adapt to various styles, though it lacks the durability of solid wood, making it less suited for long-term or heavy use.
Plywood
Known for its strength and resistance to warping, plywood is a reliable choice for cabinet boxes. Its layered construction provides stability, making it a common choice for modern cabinetry.
Laminate
Laminate offers a vast array of style options at a lower cost. It's durable and easy to clean, although it can appear less natural than wood.
Melamine
Melamine is appreciated for its budget-friendly nature and variety of finishes. It's easy to maintain but is prone to chipping and may not withstand heavy usage over time.
Wood Veneers
Wood veneers provide a natural wood look without the high cost of adhering thin wood layers to a different base material. They offer a variety of looks but may peel or damage easier than solid wood.
Your choice will align with your aesthetic and budget. Making an informed decision here will ensure your kitchen stays charming and functional over the years.
Specialty Cabinets
Specialty cabinets provide unique storage solutions tailored to your kitchen's needs, maximizing functionality in style.
Corner Cabinets
These ingenious solutions use often overlooked spaces, optimizing storage in tight corners. They come in various designs like Lazy Susans or pull-out drawers, making accessibility a breeze.
Pantry Cabinets
These types of kitchen cabinets offer an organized haven for your non-perishables. Pantry cabinets come in various sizes, ensuring all your goods are neatly stored yet easily retrievable.
Tall Cabinets
Tall cabinets, extending from floor to ceiling offer ample storage. They're ideal for housing brooms, mops, or a stacked washer-dryer, making the most out of vertical space.
Investing in specialty cabinets will significantly enhance your kitchen's functionality, ensuring every inch of space is put to good use.
Getting Ready for Your Kitchen Remodel
Taking on a kitchen remodel is thrilling yet demands thoughtful deliberation. Before diving in, here are steps to ensure a well-informed decision:
Evaluate Your Needs: Identify what works and doesn't with your current setup. For example, do you need more upper cabinets or a new set of kitchen cabinet doors?
Design Inspiration: Explore different designs and styles to inspire you. Consider what you can add or replace for your upper cabinets or wall cabinets, for example.
Functionality Over Form: Ensure your choices cater to functionality, especially with storage solutions.
Budget Planning: Determine a budget with a little extra for unexpected costs.
Consult Professionals: Engage a reputable kitchen remodeling company for expert advice and accurate estimates.
Timeline Setting: Establish a realistic timeline for completion, factoring in potential delays.
These steps will pave the way for a smooth remodeling journey, aligning your kitchen with your dream vision.
Partner with a Trusted Local Kitchen Remodeling Company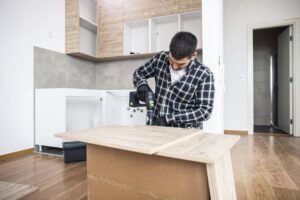 In sum, selecting the right kitchen cabinets, be it the style or material, significantly influence your kitchen's functionality and aesthetic. Whether you're drawn towards the modern allure of flat panel cabinets or the classic elegance of raised panel ones, exploring various options is key.
Engaging with a local kitchen remodeling company like Nu Kitchen Designs can provide personalized guidance to bring your kitchen vision to life. So, take that step towards creating your dream kitchen with expert help, ensuring a space that's both beautiful and functionally efficient.