Investing in kitchen upgrades on a budget will help you maximize your kitchen space while creating more room for the things that matter most to you. By making smart decisions about how much money and time to spend on your kitchen upgrades, you'll be able to get the look and feel you want without breaking the bank.
The best way to remodel your kitchen on a budget is to hire a professional kitchen remodeling company. A good company can help you plan your kitchen upgrades and advise you on options that fit your budget. They can also provide expert advice about materials, finishes, and appliances while helping you stay within your budget.
But before benchmarking with kitchen remodelers, here are some upgrade ideas you can ponder for your kitchen.
Creating an open-space vibe can be an exciting kitchen upgrade for a limited-space kitchen. By installing open shelves in your kitchen, you are making it appear more modern and creating a functional space that is easy to grab and put away dishes. Plus, you can use the shelves to display items such as cookbooks, serving platters, and fresh herbs- adding style points to an already efficient room.
You can also explore removing the upper cabinets and replacing them with open shelves or switching out a countertop for a kitchen island. These changes can make your kitchen look more extensive and modern.
#2 Installing or changing up a backsplash
Adding a beautiful tile backsplash to the walls of your kitchen is an easy upgrade that adds visual interest and character to your kitchen on a budget. Subway tile backsplashes are a popular choice for kitchen upgrades, as the classic style is easy to match with any color scheme.
If you're looking for something more creative, you can use a fun pattern or bright colors to create a unique look in your kitchen. For example, using blue and white tiles set in a herringbone pattern will instantly add dimension and interest to your kitchen walls without breaking the bank.
#3 Update your hardware as a kitchen upgrade
Updating the hardware in your kitchen is an inexpensive way to give it a facelift. Replace cabinet pulls and knobs with something more modern or replace door handles with ones that fit better with your current design style. You can also swap out light fixtures or switch your dull countertop for something more eye-catching.
Additionally, if you'd like to enhance your kitchen and make a more significant statement, you can also explore installing a modern faucet. Not only will it bring life to your sink area, but it'll also become an eye-catching focal point in your kitchen that other guests will appreciate.
Lighting can make or break a space, so updating the lighting in your kitchen is essential. To save money, you could install recessed lighting or pendant lights throughout the kitchen for extra ambiance. For an even bigger impact, you could add under-cabinet lighting to help light up your countertops, making food preparation easier.
#5 Flare your cabinets with new paints
One of the easiest ways to update cabinets is to paint them an instant facelift. You can choose the same neutral color you currently have, freshen it up with new paint, or try something completely different, like a bold color that stands out. Cabinet makers can give you practical advice on painting your cabinets, so make sure you know what you want for them to give suitable recommendations.
If you don't want to commit to painting all of your cabinets, you can refinish your existing cabinets with a glossy finish or update the cabinet doors. You can also switch out the door handles for more modern and stylish ones.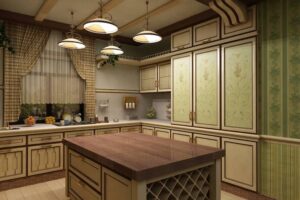 Your Imagination is Limitless
Making kitchen upgrades on a budget doesn't have to be complicated. Proper planning and investing in smart decisions make it possible to achieve the look and feel you desire without spending a fortune. And if you need extra professional help, a good kitchen and bathroom remodeling company like Nu Kitchen Designs will assist you in finding the perfect kitchen upgrades for your budget. So why wait? Start exploring, researching, and planning out your dream kitchen today! Your imagination is limitless.