Finding a reliable bathroom remodeling company has become easy because of technological advancement. Thanks to the internet and review websites, it is now possible to quickly check the reputation of bathroom remodeling contractors. But the challenge doesn't end there. It is a norm that every company claims to be the best, yet one can hold until they complete the project to know whether they are. So, what qualities should you consider when hiring bath remodelers from a bathroom remodeling company?
Imagine that while doing bathroom remodeling work, people will come and go to your house. Admit it! You cannot be confident you can guard them if they will not be getting things or any valuables, right? The thought of getting your things lost or stolen is inevitable.
For this reason, you need to vet the bathroom remodeling company and eliminate those with records of stealing and irresponsible employees. One way of doing this is by checking reviews from their previous clients. Were there any complaints about theft? How did the company respond to it? Questions like these can help you determine if you can trust them or not.
Ability to Communicate Effectively
Communication is essential when working on any project. It is even more critical when you are going to do a significant project with a bathroom remodeling company and its workers at your home since there will be a lot of stakeholders involved, such as yourself, the contractor, and other workers.
During the project, there will be a lot of changes will indeed happen. To avoid any misunderstandings that might occur because of miscommunication, ensure that the bathroom remodeling contractor you will hire is excellent at communication. You can check this by asking them questions during your initial meeting and seeing how they answer you. Are they transparent with their answers? Is their attention focused on what you have to say? If they do not seem good at communicating, it is best to look for another contractor.
Your bathroom remodeling project results will depend on how creative the contractor and its workers are. If you want something unique and different from what you usually see in other houses, hire a company known for its creativity.
To know if the contractor is creative, you can ask them about the projects they have done in the past and how they approach each project. You can also check their website and view photos of their work. If you like what you see, that is a good sign that they are creative.
A reliable bathroom remodeling company will show up on time and finish the project on the agreed-upon date. Numerous contractors fail to keep their word, which is why it is crucial to rely on them.
One way of knowing if a contractor is reliable is by checking the reviews from their previous clients. Some websites keep a record of complaints against contractors. Check out a contractor with complaints if you are interested in hiring them.
Finding a bathroom remodeling contractor that makes you feel comfortable is vital. After all, you will be dealing with them for a long time, so you should be able to approach them easily if you have any concerns.
You can check how approachable the contractor is by meeting with them in person and asking them questions if they make you feel comfortable talking to them.
A good bathroom remodeling company should be flexible enough to accommodate your needs and budget. They should also be willing to make changes if they are unhappy with the project's results.
To know if a contractor is flexible, you can ask them about their process and how they approach each project. You can also ask them about the changes you want to make. That is a good sign if they are willing to accommodate your requests.
Are all bathroom remodeling companies only up to the money they can make from their client?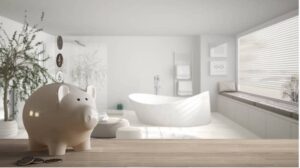 No, some bathroom remodeling companies care about their client's satisfaction more than the money they can make from them. These companies, like Nu Kitchen Design, a bathroom and kitchen remodeling company, usually have good reviews from their previous clients and are known for their excellent customer service. You can ask for recommendations or check online reviews to find this company.
Moreover, it pays to do your research when looking for a bathroom remodeling company. It is because there are a lot of scammers out there who are only after your money. Make sure to find a reputable and reliable contractor that you can trust.