Bathroom remodels often need more space and resources. Still, one of the most cost-effective ways to make your bathroom look brighter, bigger, and more welcoming is to maximize natural light. 
For any home design, natural light is essential – bathrooms included. Even if your bathroom seems cramped and limited in space, adding brightness through windows or skylights will make the area appear more prominent and airier. In this blog post, you'll find helpful advice on incorporating more organic lighting into your remodeling project.
Windows with Expansive Glass Surfaces
If you're looking for a bright and open bathroom, installing windows is your surefire route to success. When selecting the window style for your renovation project, prioritize glass areas that bring abundant natural light. For those concerned about privacy, consider investing in frosted or textured glass so you can still reap all the benefits from more oversized windows without worrying about sacrificing security. 
Installing glass blocks instead of the traditional window is a creative and efficient way to revolutionize your bathroom's lighting. Not only will these provide soft, diffused light without compromising privacy, but they can create an eye-catching centerpiece that brings a hint of contemporary flair into the room. Glass blocks offer so many ways to personalize your space while providing plenty of options for natural illumination. 
Mirrors can be invaluable in creating a brighter and more expansive atmosphere in your bathroom. Place a wide mirror above the sink or use mirrored tiles as the backsplash – this will amplify natural light, giving you more excellent illumination while making the room appear larger than it is. 
Instantly Illuminate Your Bathroom with Colorful Hues
The colors of your bathroom are vital when trying to create an atmosphere that is both airy and bright. Choose shades like white, cream, or light gray for all walls, floors, and fixtures to reflect the maximum amount of light possible – darker hues absorb it, making a space feel closed in. Infusing lighter tones into this room will amplify its brightness and give off a significant effect. 
To bring luminosity to your bathroom: 
Pare down and organize the space.

Remove any excessive items that could be distracting from allowing natural light in.

 

Install storage options that keep toiletries neatly tucked away for a tidier aesthetic that allows an abundance of sunshine.

 
Not only will you have more room to relax and enjoy, but it'll also give the illusion of having a bigger space with alluring daylighting effects.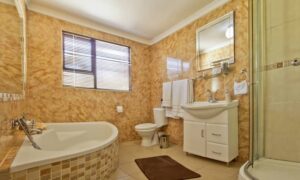 Window Treatments for Natural Light
To maximize natural light in your bathroom while maintaining control, window treatments such as shades or blinds are ideal. Select fabrics that offer sheerness to allow ample light into your home and provide enough privacy and temperature regulation coverage. Additionally, opt for neutral colors which will coordinate seamlessly with the entire design scheme present within this space. 
When there is a limited amount of space in your bathroom, it can be challenging to keep the room clutter-free. However, open shelving is a perfect way to maximize natural light and make the area seem larger than it is. This solution invites sunlight into the room while providing ample storage for toiletries and other items. Open shelves are an ideal choice if you're looking to brighten up your small bathroom and achieve greater openness throughout! 
Entrust Your Bathroom Remodel to the Experts
Simply put, a bathroom remodeling project is an investment that improves your home's aesthetics and functionality. But to get the most out of this venture, hiring professionals with experience in completing projects with excellence and safety is critical. Working with a professional bathroom remodeler can help minimize costly mistakes and ensure your project stays on schedule and within budget. So, before you embark on your bathroom remodel, consider hiring a reliable and reputable contractor like Nu Kitchen Designs, who can guide you through the process and deliver the bathroom of your dreams.