Bathroom remodeling requires a significant investment and attention to detail to prevent costly mistakes that would negate all of our hard work. The shower design is an integral part of the renovation process. The shower stall serves as the focal point of any restroom while providing a visually-appealing touch. To maximize efficiency during remodeling or shower design stages, however, we must be mindful and avert common errors that could arise during this stage. 
For an affordable bathroom remodel, make sure you refrain from committing any shower design blunders. Here are a few shower design mistakes to avoid: 
When designing your shower stall, you must be mindful of where the showerhead resides. It should not be too low or high; You should set it at a comfortable height that enables easy use from all directions. Furthermore, secure the fixture to prevent water leakage.  
In addition to simply wetting hair, remember how important a good quality adjustable showerhead can be in thoroughly cleaning your chamber while providing an enjoyable and calming water flow experience. 
Improperly-sized Shower Stall
The shower stall size must fit your bathroom's layout, which will take up significant space during remodeling. Also, choosing an incorrectly-sized shower stall could prevent you from having enough showering room and make it easier to move around in the shower.
Far too often, people forget the necessity of a well-designed shower curb. This raised barrier helps to separate your shower from the rest of your bathroom and is necessary for proper drainage and safe conditions while bathing. If neglected, it could spill water onto your floors, making them slippery and hazardous. Make sure to consider this in designing or renovating your perfect shower. 
Failing to Waterproof Your Shower Properly
As showers are generally prone to water damage, you must properly waterproof the entire shower area before you begin your design. There are plenty of methods available for this purpose. So, consulting with a professional beforehand would be wise to determine which one best suits your needs. Remember that moisture seepage can lead to expensive repairs if you neglect to waterproof. Make sure you pay attention to it.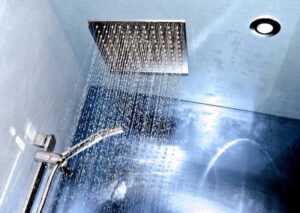 As you envision the perfect walk-in shower, remember that it is the most water-dependent area of your bathroom. You should map out where all of the existing pipes are before deciding on their placement. Then, allocate enough piping while doing so to prevent having to make costly changes later. By being mindful now, you can save time and money. 
Installation of Shower Valve in A Non Convenient Spot
It's a common belief that a shower valve should be near your showerhead or shower panel, but that's not necessarily true. Shower valves can be placed almost anywhere, provided they are installed correctly and safely – even outside the shower area. Place it anywhere it is most appropriate for you. Moreover, install it at a comfortable height before you begin the shower design stages. 
Work With Bathroom Remodeling Experts for Any Shower Design
If you are feeling overwhelmed, enlist the help of an experienced shower design professional. They will work with you to craft your ideal bathroom quickly and efficiently. A dependable bathroom remodeling service can guarantee to avoid common missteps in a shower's design while ensuring everything is handled correctly from start to finish! 
Don't forget that bathroom remodeling doesn't have to break the bank. There are countless cost-effective solutions available for achieving your desired shower design. Count on Nu Kitchen Design to guide you through the bathroom and even kitchen renovation process, creating an affordable renovation that will last a lifetime!