The kitchen is usually one of the smallest rooms in the house, yet it holds many of our most important possessions. An organized kitchen helps you save time while cooking and keeps all your items easier to find and use. Thus, having a kitchen storage plan that works for you is essential to a stress-free kitchen experience. But it can be challenging to develop the best storage ideas! 
That's why we've compiled some of our favorite kitchen storage hacks and tips from our experience as kitchen remodelers. Whether you're in the process of remodeling with kitchen and bath remodeling contractors or just looking for some DIY tips, these will help you create the perfect storage for your kitchen space
Kitchen Storage Ideas for Small Kitchens
Here are the kitchen storage ideas we think will save you the most money: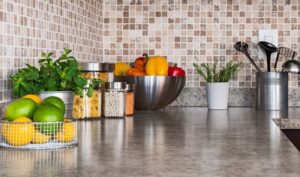 Maximize the Top Part of Your Cabinets
Make the most of that kitchen space by utilizing your cabinet tops for storage! These higher levels are ideal for stowing away seasonal platters and extra pantry items you will only need shortly. Plus, it's a great opportunity to get creative with stylish containers like baskets or boxes – adding a touch of style while maximizing kitchen storage capacity.
Hang Utensils on the Wall
If you have a little wall space, use it! Get creative and hang kitchen utensils—like kitchen towels and pot holders—on a bar where they're within easy reach and visible when needed. Plus, this can be a great way to show off your kitchen decor and bring life to a space.
Make Use of Open Shelving
Open shelving can effectively store your frequently used kitchen items, such as dishes, spices, and kitchenware. In addition to making them easier to access, it also allows you to show off these kitchen accessories. 
Turn Your Backsplash Into Storage
If you need more kitchen storage space, turn your kitchen backsplash into a place to hang kitchen accessories. Magnetic strips or hooks can be great for hanging kitchen tools and utensils like knives, whisks, and measuring cups. 
Turn cabinet and pantry shelves into drawers.
Cabinet and pantry shelves can quickly become crowded if piled high with kitchen items. But you can make them more user-friendly by installing custom kitchen drawers. It will help you easily organize kitchen items into categories and keep your kitchen cabinets neat. Cabinet makers can do a great job at custom kitchen drawers, so this can be a great option if you invest in kitchen storage solutions. 
Kitchen Storage Ideas for Large Kitchens
You may have more storage options if you have a larger kitchen, but they require clever and thoughtful planning! Here are our top ideas for larger kitchen spaces: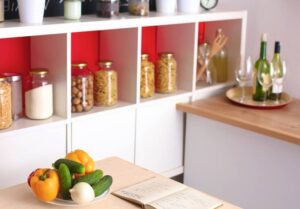 Utilize Kitchen Islands and Centerpieces
If you have a kitchen island, it can be a great place to store kitchen items. Use baskets or drawers on kitchen islands to store kitchen tools and ingredients that you use often. You can also enhance your kitchen island by adding kitchen centerpiece accessories like herbs, fruit, and decor.
As with small kitchens, maximizing cabinet space is essential. However, it's important to use all kitchen corners for large storage. Installing drawers or pull-out shelves in corner cabinets can help you maximize kitchen storage capacity and make kitchen items easier to access. 
Design Seating with Storage in Mind
Forget the stuffy, old-fashioned way of having too many chairs around your kitchen table, and opt for integrated storage seating! This modern, space-saving idea is ideal for storing items while simultaneously giving you extra seating when needed. Everyone will thank you when it's time to have dinner – they'll always be able to find a comfortable spot at the table. 
If you have a pantry in your kitchen, it can be easy for kitchen items to become cluttered and disorganized. To maximize kitchen storage capacity, upgrade your pantry by installing custom kitchen shelves and drawers to help keep kitchen items organized and easily accessible. It is a great option if you're looking for a cheap kitchen remodel that can greatly impact the kitchen's storage without breaking the bank.
Store Appliances and Gadgets in a Closed Cabinet
Finally, kitchen appliances and gadgets can take up a lot of storage space. Keep them out of sight but within easy reach by investing in kitchen cabinet doors that can help hide kitchen appliances when not in use. It will free up kitchen counter space and make it appear neater overall.
Be Creative Together With a Reputable Kitchen Remodeling Company
Adding kitchen storage solutions can help you effectively maximize storage capacity, giving you more room to focus on cooking or entertaining guests whether you're looking for storage ideas for a small or large kitchen, partner with a reputable kitchen remodeling company that can help you develop creative solutions specifically tailored to your kitchen. With the right design and planning, it can be easier!