With the addition of a stunning kitchen island, a modern kitchen remodel is complete! Not only does it add extra counter space and storage, but it also serves as an ideal spot for meal prepping, dining, and entertaining. You can make your kitchen the perfect cooking oasis with customized seating options and additional features that maximize its layout. An island brings functional convenience and style to any home chef's repertoire – you won't regret adding this timeless piece to your culinary arsenal.
Let's delve deeper into how the kitchen island helps to make culinary tasks more effortless.
Before you venture on a project with a kitchen remodeling contractor, you must understand what you need and how to use a kitchen island.
Planning for easy access to appliances and other necessities is essential when designing a kitchen island as your main food preparation area. Considering that you will require an outlet for any cooktop appliances, proximity to a compost bin or refrigerator and the addition of a prep sink are all important factors in achieving maximum efficiency from the space.

If you intend to use an island as your primary cooking space, there are a few essential things to keep in mind. To ensure the protection of your countertop from hot items, tile, metal, or stone works well due to its heat-resistant features. Also, installing an overhead vent hood and a downdraft fan is key to creating an efficient ventilation system. Last but not least, it's important to remember that eighteen inches of free space must be available on either side of your range/stove top to maximize safety and convenience when cooking!

Transform your kitchen island into an efficient cleaning center. Ensure ample storage for dish towels, detergent, and other necessary items to make the space clutter-free. Keeping the compost bin and sliding garbage bins close to the sink will make washing dishes easier. Allow sufficient room around the dishwasher door to open it fully without obstruction.
Why is Kitchen Island a Must Have?
The kitchen island offers beneficial features to make your space more functional and efficient. Here are some to consider:
Compliments Your Home Function and Style
The kitchen island is a great opportunity to add a personalized touch to your home. You can tailor it with different materials, colors, and sizes that fit the needs of your space. This item not only adds necessary counter space but also lets you show off your unique style.
Practical Storage Solution
You can make your kitchen more convenient with a kitchen island. It offers additional storage space to keep utensils, dishes, and cookware easily accessible. The ample real estate beneath can be used to store canned goods or dry food items. The open shelving or cabinets on top offer even more options for organizing all your culinary needs. Utilizing this readily available area is an effortless solution that will ultimately reduce stress and make meal preparations smoother than ever before!
Creates an Ideal Entertaining Space
The kitchen island is ideal for friends and family to gather for meals or casual conversations. There is plenty of room for food and drinks and comfortable seating at the bar-like counter.
A designated area for kids to finish homework, draw, and be close to their parents can easily give them extra counter space. It is especially helpful if your kitchen has yet to have an extra table available. You can also keep snacks and drinks nearby so kids can help themselves whenever they need a study break.
The island is ideal for chopping vegetables, mixing ingredients, and preparing meals. It can make the kitchen seem less cluttered and more functional due to its sizable counter space. Utilizing this area is sure to reduce stress in the kitchen, which allows for a smoother cooking process overall.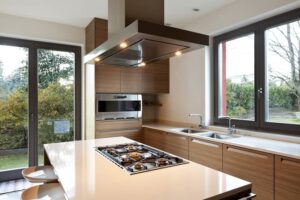 You can consider a kitchen island if you're considering kitchen remodeling services. In addition to offering many benefits, it can transform your kitchen from functional to fabulous. From practical storage solutions to creating the ideal entertaining spot, a kitchen island fits the needs of every home chef! To ensure that your kitchen island fits correctly and to maximize the space, contact Nu Kitchen Designs. We are a kitchen remodeling company that has been in business for years and guarantees high-quality customer service.