Imagine how stress-free your cooking experience could be if you had kitchen drawers. From organizing ingredients to decluttering all the mess, these handy storage areas can offer the greatest convenience and make finding items a breeze. Furthermore, with proper organization skills, drawers remain neat throughout each meal preparation. Don't wait any longer – make your life simpler today by investing in high-end storage solutions for your kitchen drawers! Enjoy the extra comfort that comes with having an organized space.
Nu Kitchen Design has chosen a few benefits their custom closets offer to help you determine if this upgrade is ideal for your needs.
Are you tired of struggling to get at those condiments each time dinner rolls around? You can make accessing your ingredients quick and effortless with drawers. No more precariously balancing on a chair or stool. Just open the drawer, and boom – all items in arm's reach. You'll save precious minutes by easily finding what you need without contorting yourself. It can be especially useful when speed is essential. It will make cooking even easier than ever before!
With kitchen drawers, you can easily store and organize all your items while saving yourself space. And if you're looking for the cheapest way to max out your storage without breaking the bank? Try converting just one cabinet into many drawers! You'll save time and money – plus, you can customize each drawer to fit larger objects such as platters or pots. Not only that, but you will store frequently used items like dishware, baking supplies, and cutlery neatly in their compartments — leaving countertops free of messes.
Don't let rummaging through that cluttered cabinet be a thing of the past – kitchen drawers make it so easy to organize your kitchen tools! With just one glance, you'll spot whatever cooking utensil or pan you need instantly. Plus, having all your supplies easily accessible will give you the freedom and convenience to decide how best to arrange them drawer by drawer. You can experience the most ease in organizing items when they're always within reach.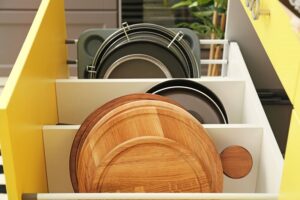 You can upgrade your home's interior decor by adding stylish kitchen drawers. For a long time, traditional cabinets have been the go-to for kitchen storage needs. But if you're looking to step away from the mundane and into something new, custom drawers are an excellent choice. Choose from various styles and materials that match your home's decor themes, and enjoy modernized kitchen cabinets with all the bells and whistles.
When it's time to sell your house, updating the kitchen can help you maximize its resale value. Buyers are searching for aesthetic features like custom drawers that stand out and make their decision simple – and what better way than with modern storage solutions? Not only will they be happy with the practicality of these drawers, but they'll also adore the beauty it adds to the kitchen!
In general, kitchen drawers are a great investment for any homeowner. The convenience, organization, and added aesthetic appeal they provide are worth the time and effort spent on installation. Your cooking experience could be much simpler with a few small upgrades, and drawers will be part of that.
Allow Professionals to Enhance the Safety of Your Kitchen Drawers
Working with a kitchen remodeling company, Nu Kitchen Design, is the best way to install drawers properly and correctly. They'll take the stress off you by handling everything – from measuring your space and ordering materials to installing your new kitchen drawers. Their expertise and experience will guarantee that your upgrade runs smoothly and stress-free! Invest in drawers today and enjoy the benefits they provide.