Going into 2022 real estate prices are at all-time highs, even for homes, townhomes, and condos that need a little bit of work (read; have a kitchen so outdated it gives you a headache). So whether you're getting ready to sell, just want to increase your home value, or are looking to buy a home in your budget that you can later make your own, one huge way of creating value in a home is small space kitchen remodeling. It's one of the spaces we spend a lot of time in and is often the first thing you see when you walk into a home. However, with elevated (and honestly – inflated) home values, comes the unfortunate predicament of more money buying you a smaller space. 
Worry not, there are several things you can do to remodel a small space kitchen and end up with a beautiful space. Let's talk about how to improve a small space kitchen and make it more welcoming, inviting, and useful (of course, we can take all the below principles and use them in large kitchen spaces too). 
Obviously, this is mostly up to arbitrary measurements and opinions. What feels small to you may be large to someone else. Surprisingly the average kitchen size is only 100 sqft (the classic 10×10 kitchen is considered the benchmark). If you have a space smaller than this, you may actually be in possession of a truly small space kitchen, which may require a little bit of extra creativity.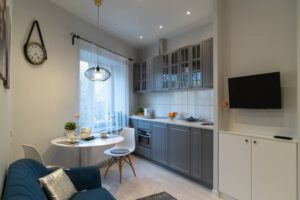 When dealing with a small space kitchen that must also be high in utility, the floorplan is the first thing you'll want to analyze. In particular, three-floor plans can be quite fitting for a small space kitchen; one wall, corridor, and L-shaped. The one-wall floor plan is the absolute smallest layout possible and is exactly what it sounds like. All your appliances, counters, and cabinets are attached to one wall. In a corridor shape, you have two walls to work with which allows for the "kitchen triangle" movement (a classic kitchen floor plan rule of thumb that is characterized by a triangular layout between the stove, fridge, and sink to maximize efficiency). In the classic and highly popular L-shaped layout, two adjoining walls hold all the appliances and counter space and meet in -well- an L-shape. 
While the above floor plans work wonderfully for a small space kitchen, you may want to avoid a U-shape, a floor plan that includes a kitchen island, or a double L-shape floor plan. These floor plans would reduce walking space and add a cluttered feel. 
Think of maximizing your small space kitchen the way you would think about budgeting; every dollar should be accounted for. In this case, every space should be accounted for and have a job whether that's fulfilling an aesthetic goal or a utility one. The tops of cabinets and appliances, empty wall space, and counter space should be thoughtfully used. You may want to use pegboards to hold pots and pans, select an eye-catching backsplash, or create hidden storage space atop appliances (like a handless cabinet above the fridge that will blend in or allow for design complements). One of the biggest things to factor into any small space kitchen remodeling project, regardless of size is the layout, and how to make the most efficient layout possible. Maybe there is an extra wall that can be cut down for an inviting bar top area.
Maximizing cabinet space and storage space overall will also be a high priority in a small space kitchen. Lazy Susan's and rollout shelves can lend a hand in adding organization and maximizing space inside cabinets and use all available space (like normally hard-to-reach corners) and in turn, help you avoid countertop clutter leaving you with a much sleeker feel that may make your small space kitchen appear bigger than it is. For small spaces, generally, a minimalist look will work better. If you're looking for affordable kitchen remodeling you may not be able to afford custom cabinets, so a little bit of creativity will go a long way.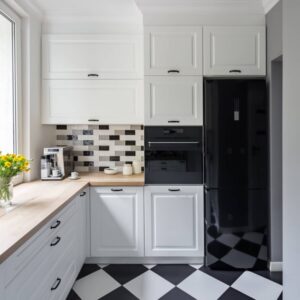 Any kitchen remodeler worth his salt will tell you; that once you've fleshed out your layout and your storage space and usage, you can move on to the fun parts; the finishing touches that add that spark of design into your space. Some things to keep in mind at this stage:
Material and color choice: larger and brighter tiles/colors will make the kitchen appear larger and more inviting, as opposed to darker colors (such as black, or deep reds/blues/greens). You may want to opt for a bright white marble or bleached granite as opposed to dark marbles and granites. White subway tiles or light-colored backsplashes would be a good choice as well. For a splash of color, consider using the rules of contrast; a splash of bright eye-catching color on a lighter more muted surface (such as a red backsplash with a white countertop) will not only add an element of design but keep the light airy feel you're looking to achieve. 
Lighting and fixtures: with all spaces, lighting is essential. The more light there is, the brighter, and airier, a space can feel. With a small space, this becomes even more essential. In a small kitchen strategic lighting will be your best friend; consider using task-lighting and dimmable light fixtures that will allow you to illuminate the space as needed without taking up too much space (as a large low-hanging centerpiece would). 
Appliances: In a kitchen, you don't want the focus to be on the appliances. Consider opting for more minimalist and space-efficient styles as opposed to flashier, bulkier appliances. Think of a top and bottom fridge as opposed to side-by-side, or skipping the farmhouse sink in favor of a regular one with an eye-catching faucet. 
Kitchen remodeling can be a daunting task, but with a small space you have one unique advantage; access to more affordable kitchen remodeling. So get out there, get creative, and let's remodel that kitchen.