If you've been living in your home for a while, you may reach a point where you feel like it needs a little **freshening up**. Maybe the subway tile in your kitchen is getting old or you simply can't bear to look at that outdated wallpaper in your bathroom anymore. Whatever the case may be, in the world of bathroom remodeling and kitchen remodeling, more is not always better. Your project doesn't NEED to cost you several thousand. In fact, sometimes small changes are enough to make you feel like you're in a new space. With the amount of time, we all spend at home these days these budget-friendly tips may be your best bet towards creating a space you're proud of while holding on to your hard-earned dollars.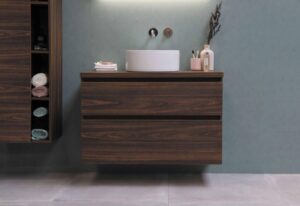 One of the secrets to remodeling your space on a budget is that you don't have to renovate it in order to create a new look. Often the most budget-friendly ideas come from refurbishing. 
If you are on an especially tight budget, an affordable bathroom remodeling project might simply be refurbishing some of the existing items in your bathroom may be the right move for you. 
Refinishing your tub or sink

– According to hgtv.com, refinishing a tub can cost about a THIRD of replacing it. Seeing as this may require working with delicate materials such as epoxy, it's best to get the help of a professional. 

Add new fixtures (handles, faucets, lighting)

– You'd be surprised at the effect these small changes can have on the look and feel of your space. You can replace simple handles with designs that fit the overall theme you're looking for (such as shells for drawer handles that fit an overall beach theme), or you can choose lighting fixtures that will create a focal point instead of blending into the background. 

Touch up the existing grout

– No one likes the look of stained grout. By simply touching it up your bathroom will immediately have a sleeker – and newer – feel. 

When in doubt, paint!

– you can paint the floors, countertops, even portions of the shower in contrasting or complementary colors, patterns, or abstract designs – whatever you like! Paint (and color in general) is the easiest way to inject a bit of personality into your space without breaking the bank.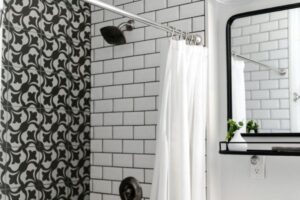 If you are open to more extensive projects that can create a completely new space for you, these renovation ideas may suit your needs better while still keeping your costs low: 
Installing a prefabricated shower instead of a custom built showe

r – yes, this is a thing. If your current shower is in an easy to reach and standard shaped area, your best bet may be to get a prefabricated shower that matches your style as opposed to having something customized. In addition,

custom cabinets

may be a cheaper option if you're looking for something customized.

If you'd like flooring requiring grout, go with contrasting grout lines –

This will spice up the look and feel while not changing the price tag too much. This can create an innumerable amount of styles; retro, sleek and modern, rustic, you name it. It all depends on your personal style. 

Install vinyl luxury flooring instead of real planks

– this will be substantially cheaper AND easier to change down the line if you'd like.

Quartz tops for sinks/cabinets and ceramic or porcelain for the backsplashes

– these materials are just as high quality and durable while being cheaper (as opposed to marble/granite or travertine). 

Install a low-flow toilet

  – this may not be a huge change in style, but will do wonders for the environment and for your water bill, so we had to throw it in here. 
While we may be a little biased, we would strongly recommend most updates be done by a professional bathroom remodeler/bathroom remodeling company or under the advisement of one. At Nu Kitchen designs we work to ensure that you are getting the best value for your money by working with a customized list of preferred vendors to keep costs down while maintaining the highest quality. We aren't just a bathroom remodeling company, we are creators with a passion for our work. Book a free consultation with us today to discuss how we can renovate your bathroom with whatever your budget maybe! Happy designing!