We've talked about the new designs that we're seeing for kitchens and bathrooms in 2022, and how homeowners are trending towards an eclectic and expressive color palette, and eye-catching patterns and styles. However, the one downside to completing a beautiful and trendy kitchen remodel in your home is that…trends go out of style. 
Now if you love keeping up to date with current trends and experimenting with different designs in your home, the new styles may be for you. However, if you're looking to create a timeless space that will be just as "in" 5 years from now as it is today, you may opt to lean towards trends that have proven themselves to outlast the test of time. Here are six design trends for kitchens AND bathrooms remodels (they're remarkably similar) that can help you create a classic oasis to enjoy long-term.
Even if you're not familiar with the name, chances are you're familiar with the look; best known for their boxy appearance, shaker cabinets feature a flat, recessed center panel with square edges and straight lines.  They are a perfect choice for any custom cabinet application. 
Shaker cabinets are named after the United Society of Believers in Christ's Second Appearing community—more commonly known as Shakers. The Shakers formed after breaking away from the Quakers and became renowned for their simple living, architecture, technological innovation, and furniture after emigrating to America. The Shakers were a self-reliant community and thus became adept craftsmen and were known for the quality and durability of their work. Importantly, they believed that veneers or ornamentation on furniture constituted deceit, which in turn created the minimalist and timeless look we still love today.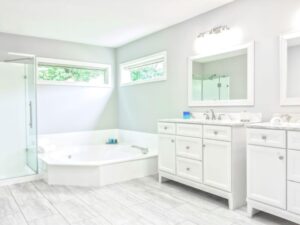 2. Neutral tones for Kitchens and Bathroom
If you've ever moved into a new home, you know that the color white is much more attractive-and less intimidating- than, say, an eye-catching green (a current trend). White, and other subtle neutral tones offer a bright, clean, and minimalistic look that allows a homeowner to create focal points of color and eye catching designs with less permanent items such as fixtures, decorations, or materials like stone and wood.
3. Natural wood for Kitchens and Bathroom
Wood has been around in kitchens and bathrooms for as long as we've had kitchens and bathrooms. Likely, it will never not be in style. It is remarkably resistant to high humidity, adds depth and warmth to a space, and beauty due to the natural grains and patterns brought out  in stained wood. Whether you opt for wooden furniture like a kitchen island or free standing sink, or go for hardwood flooring, you can't go wrong.
Another design element that is named after it's history, subway tiles originated in – you guessed it – the New York Subway. The designers of the subway system  Christopher Grand La Farge and George C. Heins of the Victorian Era (an era in which hygiene was becoming increasingly valued) were faced with designing a public transportation system whose space was welcoming enough to help the user forget they were literally underground, while also being easy to clean and maintain.
Enter: subway tiles. Subway tiles have a clean and bright look that has the added benefit of bouncing light and brightening a space. In addition, they are durable, incredibly easy to maintain and clean, and versatile. By the 1920s subway tiles had made their way into kitchens and bathrooms and have been around ever since. 
5. Marble, Stone, and Ceramics
Like wood, another timeless material is marble, or other natural stones and ceramics. These materials not only provide a luxurious feel, but are also highly practical. They are strong and long-lasting, and provide easy temperature control (important for the two rooms in your home with the most amount of exposure to moisture and temperature change). Natural stone like marble and ceramics are also highly heat resistant, and provide a functional-and sleek-look wherever they are utilized.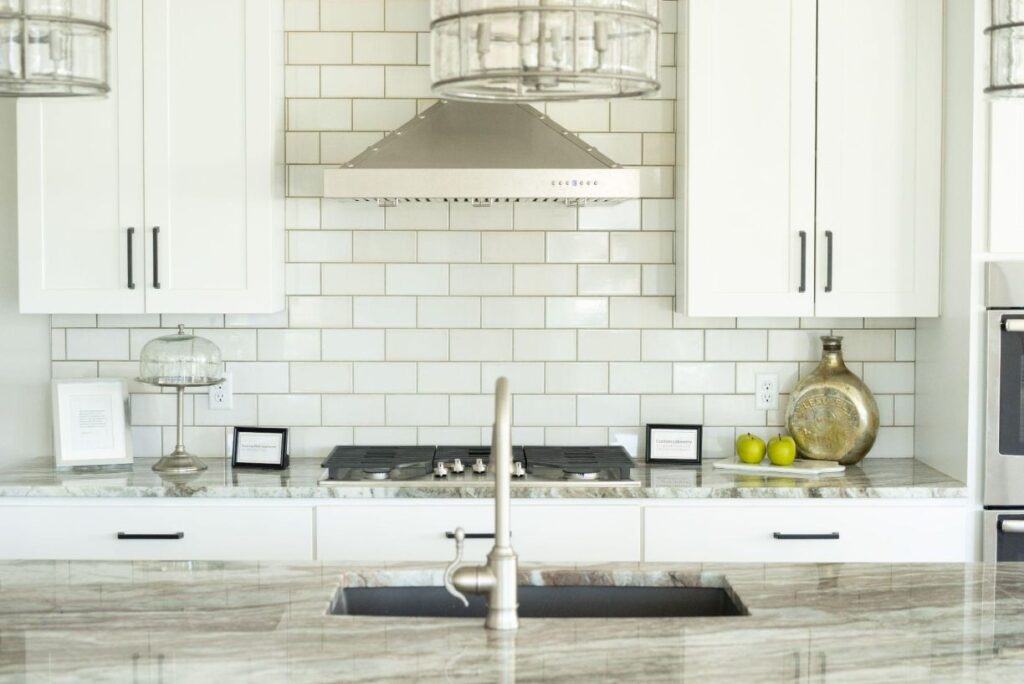 Possibly the design element that is both easiest to replace/update and the one with the MOST choices, lighting fixtures, and styles play a key role in creating a timeless bathroom or kitchen remodel. For bathrooms, both simple wall-mounted scones with bright white shades and brass or metallic features, as well as ceiling-hanging chandeliers can lend the desired simplistic look without drawing too much attention to the piece. For kitchens, it's important to keep in mind that it is a task-based space, and therefore requires task-based lighting. Hanging pendant lighting can provide the focused light (and customizable brightness) that is needed for a functional kitchen, while also creating an ageless decor by catching the viewer's eye and unifying the surrounding space.