Gone are the days of the monochrome kitchen design. As the saying goes, out with the old, and in with the new. As with everything else, the world of kitchen remodeling and design has been largely influenced by the still ongoing pandemic. More time at home has led homeowners to re-evaluate the usage and design of their living spaces, and with that, we are seeing new and exciting trends in kitchen design that are replacing the well-known sleek all-white designs with a pop of personality, and smart use of space. Here are just some of the many shifts that are developing:
In recent years there has been a shift in backsplashes as homeowners called for thinner and thinner grout lines (made possible by new tile technology). In 2022, we expect to see grout vanishing altogether with stone slab backsplashes gaining popularity. Housebeautiful.com quotes Anthony Carrino – vice president of design at Welcome Homes and star of the HGTV show Kitchen Cousins – stating that slab backsplashes will be thriving in 2022 due to the "clean, modern" look they lend.
Many designers and lifestyle brands are harping on moving away from monochrome and all-white kitchen designs and towards adding a pop-or a lot- of color. Kitchen cabinets serve as the easiest way to do this (they're cost-effective, versatile, and cover a large area), and are therefore appearing in bolder hues such as ocean blues or earthy greens, as seen on popular lifestyle brand Southern Living.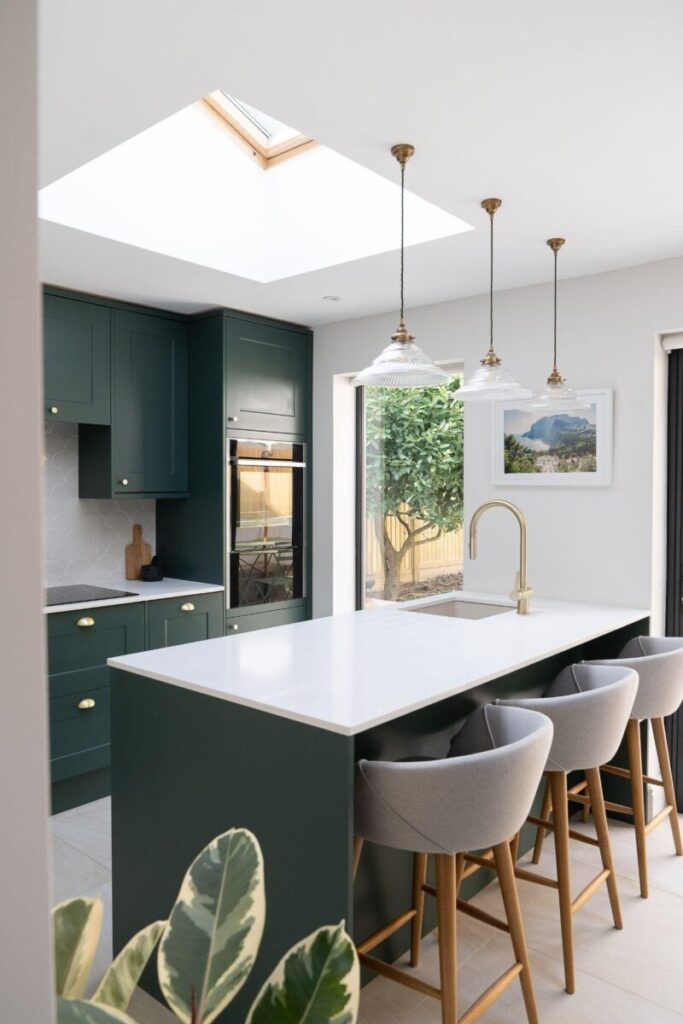 3. Hidden Storage Kitchen Design
As with most modern trends, homeowners are moving towards a minimalist look and feel. With spending more time at home, the need to declutter is increased in order to maximize the utility of every space in the home. With that, comes an increasing move towards not only increased storage space, but hidden storage. In fact, home interest magazine Homes & Gardens has recently published an article on invisible kitchens, in which not only storage, but possibly even appliances, are gathered together and hidden in a discreet, yet functional, way allowing the kitchen to blend in with the rest of your home decor.
4. Statement Islands Kitchen Design
The kitchen has grown into a living space of its own. Along with adding more personality and storage to the space, homeowners are craving more versatility in their space. Enter: MULTIPLE islands kitchen design. People may opt to use an island for meals, as a workspace, as a food prep station, or as a statement piece in the middle of the room. Better yet, they may do all of the above. With the increased usage of the kitchen and need for versatility from islands, many are opting to make room for double islands in order to make use of all possible functions and add even more storage. As a bonus, many people opt to use an island as a statement piece. RTA Cabinets says "there are many ways for an island to make a statement. It can have different color cabinets from the perimeter of the room. It can have a bold countertop color. It can feature some distinct statement pendant lights." The possibilities are endless.
5. Handless Design Cabinets
Keeping in line with the move towards minimalism and simplicity, in 2022 you'll be seeing a return of flat front cabinets with no handles or knobs. While these fixtures can be used to add detail and pull together a space, the idea here is to not take away from the space, and to create a decluttered and versatile space. Absent or barely-there hardware lends a sleeker and cleaner look and allows other statement pieces (such as islands or light fixtures) to take center stage.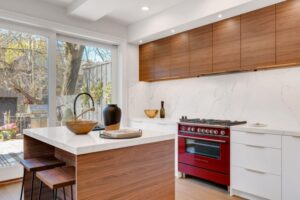 All in all, the 2022 trends for kitchen design tell a story. They tell a story about the lessons, the experiences, and even the joy that the last two strange years have brought today's homeowners. They scream individuality, personalization, and a dare to be different – a dare to experiment. Who didn't learn a little about themselves during the pandemic? Splashes of color and backsplashes that tear away from the classic subway tile (among many other trends) inject personality into a kitchen and make it a truly unique space. Minimalistic cabinets and hidden storage speak to the increased time at home and the need for comfort and serenity in the entirety of a person's house. A renewed focus on islands (and a different approach to them) represent the desire for versatility in every space of a home, as well as the adaptability of it's homeowners.