Walk-in closet cabinets are more than just a trend. They are a symbol of elegance, organization, and space utilization. Their design transcends the basic function of storing clothes, evolving into a personalized space where walls, shelves, drawers, doors, and hangers create a purpose.
As you step into this room, you're not just walking into a closet. You're entering a realm where fashion meets function. The core of a great walk-in closet design lies in the cabinets, the silent keepers of your wardrobe. Whether you are renovating your master bedroom to include a custom closet or seeking built ins closet ideas to maximize vertical space, choosing the right material for your closet systems is crucial. It's not just about creating ample storage. It's about crafting a stylish, organized space that complements your lifestyle and house aesthetics.
This guide delves into the top five materials for your walk-in closet cabinets, helping you make an informed, stylish choice through the myriad of options.
Evaluating Your Walk-in Closet
When it comes to creating a harmonious walk-in closet, understanding the space you have is the first step. Evaluate the dimensions, layout, and the existing closet system, if any. This assessment will provide a clear vision of the potential for more storage and how to utilize vertical space best. Reflect on the daily interaction with your closet. Do you find it easy to locate and organize your clothing, shoes, and accessories? Your observations will fuel inspiring closet ideas for a redesigned space.
The Role of Materials in Closet Design
The genesis of modern walk-in closets can be traced back to ancient Roman soldiers who developed the armarium, a wooden box used to transport weapons and armor to military camps. This early adoption highlights the longstanding importance of materials in making functional storage solutions. Fast forward to today, materials remain the cornerstone of closet design, significantly influencing your walk-in closet's functionality, durability, and aesthetics. For instance, solid wood exudes elegance and durability, while metal might lend your space a modern, sleek look. 
Exploring different materials can help you envision a custom closet that caters to your needs and resonates with your preferences. Whether you are aiming for a minimalist design or a luxurious walk-in closet worthy of a master bedroom, the right material choice will be a cornerstone in realizing your dream closet. 
Engage with a professional closet company to glean insights on how materials can transform your room from a mere storage area to an organized, stylish, and inviting part of your home. Each material has unique features. Understanding these will help in making a closet system that stands the test of time while adding a touch of elegance and great design to your room.
II. Top 5 Materials for Walk-in Closet Cabinets
Selecting the right material for your walk-in closets is pivotal in marrying functionality with aesthetics, ensuring your space remains organized while exuding your personal style. Explore the top five materials in our guide below, each bringing a unique blend of benefits to cater to varying preferences and closet designs: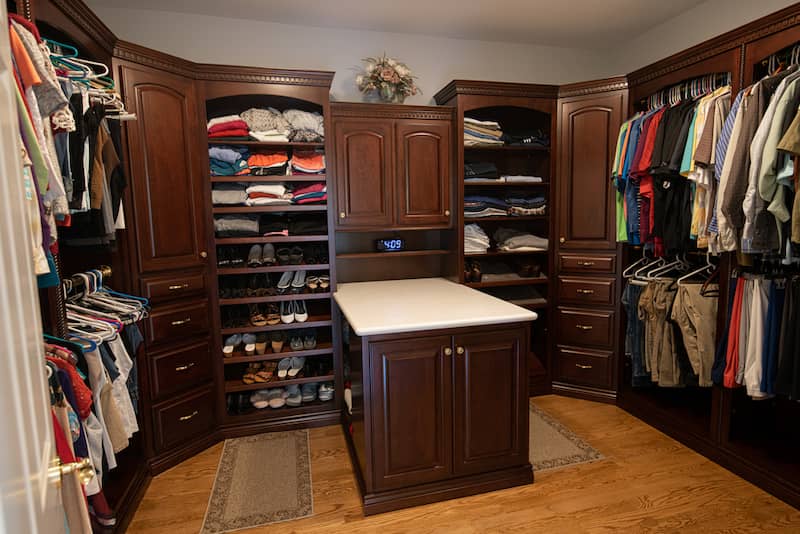 Solid wood is synonymous with durability and elegance, making it a top choice for walk-in closet cabinets. Its robustness, long lifespan, and unique grain patterns add a natural charm to your closet space. Advantages extend to its ability to withstand heavy loads, making it perfect for hanging suits and clothes and storing a plethora of accessories. The plethora of style options, from modern to rustic, enables homeowners to tailor the look to their precise tastes. Solid wood easily complements a great design, producing an elegant, timeless space that transforms your walk-in closets into a room you adore.
Melamine brings forth a blend of affordability and contemporary style. Its features include scratch resistance and a variety of finish options mimicking the look of real wood or even stone. This material is recognized for its budget-friendly nature without compromising on the stylish aspect, making it a practical choice for those looking to balance cost with a modern closet design. The myriad of style options ensures you don't sacrifice aesthetics while adhering to a budget.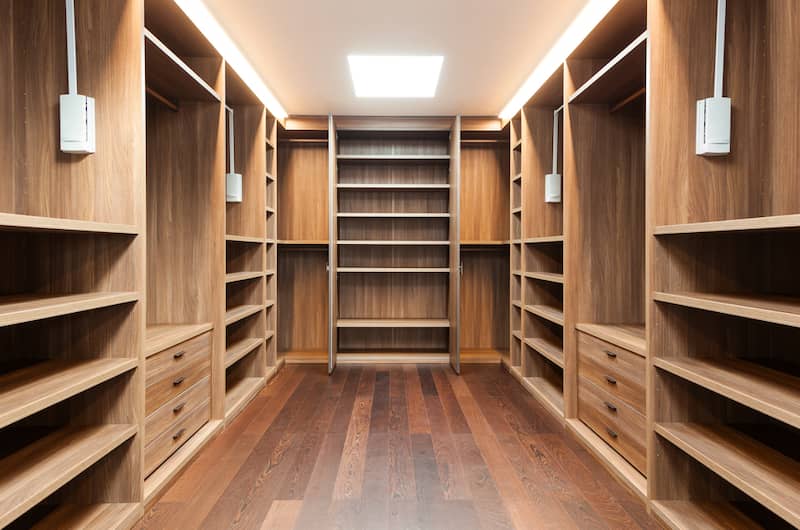 Plywood is revered for its strength and durability. Comprising multiple layers bonded together, it resists warping and cracks, ensuring your closet system endures through the years. Its smooth surface is amenable to various finishes, enhancing its appearance. Plywood's inherent strength lends itself to creating ample storage spaces, with shelves and drawers that hold up under the weight of clothes, shoes, and other personal items in your room.
Metal cabinets exude a sleek, modern vibe in walk-in closets. They are known for their durability, easy maintenance, and contemporary aesthetic. Metal's streamlined look and ability to resist damage make it an inspiration and a sound choice for a modern home. The minimalist appeal and the ease of cleaning are other features that homeowners find appealing.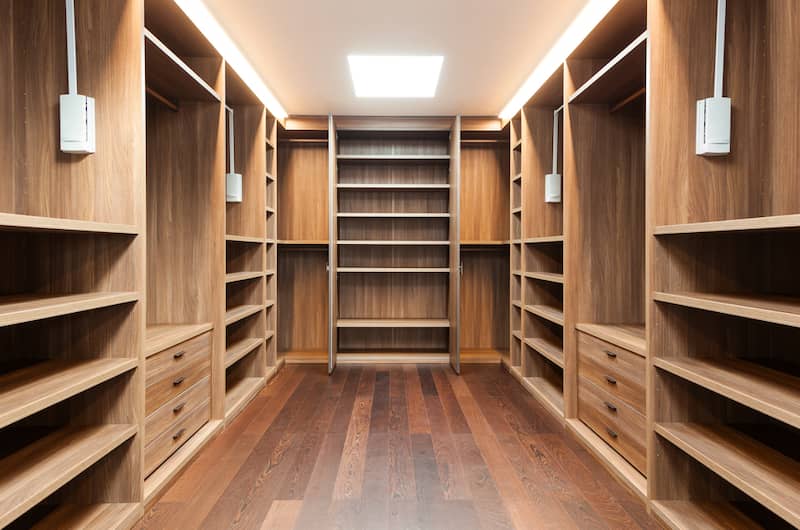 Glass introduces a touch of luxury and modernity to walk-in closets. While it may require regular cleaning to maintain its pristine look, the aesthetic payoff is immense. Glass-front cabinets allow for an easy view of your wardrobe while adding a luxurious feel to the closet design. The transparency also encourages organization, as everything is on display. Whether frosted or clear, glass cabinets are a bold, modern choice for the discerning homeowner looking to make a statement with their closet design.
III. Matching Materials to Your Style and Needs
Navigating the realm of walk-in closets transcends mere storage solutions; it's about making a personalized sanctuary for your attire. In this section, we delve into aligning material choices with your wardrobe essentials and aesthetic inclinations, ensuring your closet is functional and a reflection of your mood and unique taste.
A. Evaluating Your Wardrobe
Delving into the heart of your walk-in closet reveals the spectrum of wardrobe items nestled within. A meticulous assessment of the type and amount of clothing, shoes, and accessories you possess lays the foundation for a well-thought-out closet design. The essence of organization blooms when the materials selected echo the variety of wardrobe items. For instance, solid wood shelves exude a timeless charm while securely putting on your assortment of shoes.
B. Incorporating Your Personal Style
Your walk-in closet is more than a storage haven. It's a reflection of your vibe. The material palette you choose should resonate with your personal aesthetics and the broader strokes of your home decor. Venture into the realm of custom closets, where every drawer and shelving is a testament to your individual style. From the rustic allure of wood to the contemporary vibe of metal, the materials you select are the silent narrators of your design narrative. A custom closet isn't merely about organizing. it's about celebrating your unique preferences amidst a blend of functionality and aesthetic appeal.
IV. Professional Consultation and Customization
A. Working with Closet Designers
Engaging with professional closet designers can be a game-changer in your quest for the perfect walk-in closet. Their expertise can guide you in selecting materials that resonate with your style and are durable and functional. They excel in translating your dream closet ideas into a tangible, stylish, and organized closet system. Their knack for closet design can effortlessly transition your desires from mere ideas to a complete, functional, and aesthetically pleasing reality.
B. Exploring Customization Options
The realm of custom closets is rich with myriad design options awaiting your exploration. It's an opportunity to delve into personalized closet systems that utilize every inch of space, providing ample storage for your wardrobe and accessories. Customization unleashes a world where your closet becomes a harmonious blend of style, function, and organization. With a bespoke custom closet, envision a wall, doors, drawers, shelves, and hanging spaces made to your liking, making every morning's dress-up routine a delightful experience.
Making Informed Choices: Your Gateway to Elegance
Reflecting on the insights shared, the importance of selecting the right materials for your walk-in closet cabinets cannot be overstated. Exploring different materials and consulting with seasoned professionals like those at Nu Kitchen Designs can significantly bridge the gap between your current closet organization system situation and the custom closet of your dreams.
The right material not only elevates the aesthetics of your walk-in closet but also augments its functionality, producing a well-organized and stylish space. Incorporating your personal style with the expertise of closet designers can transform your master bedroom into a haven of elegance and organization. Your journey toward a sophisticated and functional walk-in closet begins with a single step of informed decision-making. Embrace the possibilities, and let your closet resonate with your style and aspirations.