Are you looking for bathroom remodeling ideas? There are times in life when money…well let's just say it doesn't grow on trees, and things are a bit tight. The national average cost of a bathroom remodel is upwards of $10,000. So if you don't have that lying around, are you doomed to stare at the same outdated bathroom until you do? Not necessarily. This average is simply just that; an average meaning that your remodel can be much higher OR lower. In addition, you don't need to fall into the trap of thinking it's all or nothing. Remodeling a bathroom on a budget can mean you make small affordable changes that will freshen up your space without breaking the bank. In other words, you don't need to undertake a floor-to-ceiling renovation if you don't have the funds. A cheap bathroom remodels simply requires a little extra creativity, some compromises, and research. 
For instance, you'll want to decide whether you're willing to attempt some DIY projects or potentially do extra research on bath renovation companies and compare quotes for different companies and project scopes. Here are 5 great places to start that shouldn't break the bank whether you're hiring bathroom remodeling experts or doing it yourself. 
Paint –

no

affordable bathroom remodel

complete without considering paint

first.

There is probably no cheaper option than refinishing your bathroom surfaces with a fresh coat of paint. Consider painting your vanity, your accessories, or the walls of your bathroom. An industry secret? You can also paint over

tiles.

Tile

– If painting over tile isn't your style, then a

bathroom tile remodel

may be the way to go for you. Tile isn't as costly as natural stone and comes in a variety of different styles and colors. It can also be livened up by creating designs like mosaics to add a splash of personality to your space. In addition, a small amount can go a long way by simply creating an eye-catching backsplash or shower surround.

Refinish surfaces –

Reglazing tiles or refinishing your bathtub can not only renew the shine in old fixtures but also change the look if you opt to use color. This solution can save you money by simply refurbishing what you already have and preserving it for many years to come, as opposed to swapping it out for a whole

new

tub/set of tiles.

Vanities and Mirrors

– a

custom-made bathroom vanity

can come with a pretty high price tag. So if you're looking for a new look but don't want to settle for

IKEA cabinets, you might consider using a little bit of DIY to update your existing vanity or only changing the sink top. In addition, a modern eye-catching mirror can create a focal design point. 
Add or change lighting fixtures –

Adding additional light fixtures to create a light airy feel (or maybe a more dramatic look – totally up to your personal preference) is an underrated design tool. In addition, simply

changing

existing light fixtures to be a focal point in your bathroom design (such as an eye-catching chandelier) can have a big impact on your bathroom remodel.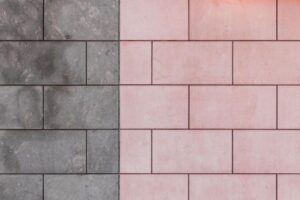 Thinking of Bathroom Remodeling Ideas?
These are only some of the small changes that can be used to renovate a bathroom on a budget. As mentioned previously, these can be attempted as a DIY project or can be outsourced to bath renovation contractors. However, when in doubt, call a professional. While DIY can save you money, it can also COST you money if it isn't done properly. The last thing you want is to have to call someone after spending money and time on materials and your renovation project because something went wrong or you got stuck. Instead, we recommend obtaining a quote first, then deciding if it's out of the question to have bathroom remodeling experts take the project out of your hands. However, please note that for things that involve electrical work, or plumbing changes, it's always best to call a professional. After all, it's what we're here for! Reach out to us today and we would be happy to walk you through the budget-friendly options we can provide for your space.