Sometimes it can feel like all of the beautiful complete bathroom remodel projects you see online when browsing for bathrooms idea involve huge showers…tall ceilings, tons of natural light, and tons of square footage. The reality is that the vast majority of people don't have a giant bathroom to work with. So how do you create a beautiful bathroom and maximize your small space? There are a few tips and tricks. 
Small bathrooms typically have low ceilings to match. This makes the room feel even smaller by creating a feeling of an enclosure instead of a space and an open area. Large or hanging fixtures, as well as color on the ceiling, can amplify this effect, so if you're working with a small bathroom it's best to stick to recessed lighting, add mirrors, and avoid coloring the ceiling. A pricier option would be to opt for a tub-to-shower conversion in order to get rid of bulky fixtures and make the ceiling feel higher by using a glass partition.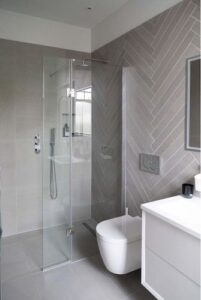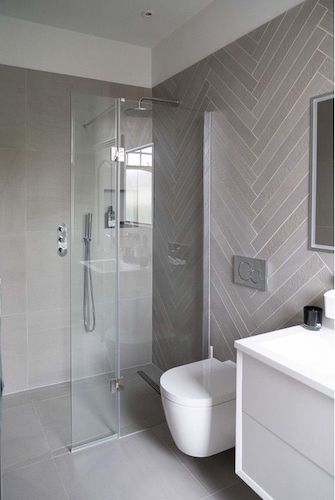 The best bathroom remodel will take into account this one golden rule of design; light is your friend, especially when working with a small room. If natural light isn't possible, utilize bright white lighting to brighten up the space as much as possible. Avoid darker colors and too much contrast, and opt instead for light shades in a single color family (think whites and creams as opposed to green and white). This will avoid overpowering the limited space and create the illusion of airiness you're aiming for.
While optional, a pop of color isn't out of the question for a small bathrooms, but it's best to keep the walls and trims light. So how do we incorporate color? We get creative. You can add color through accessories (things like towels, mats, soap dispensers, etc), or even elect to paint your vanity a bold color while keeping the rest of the bathroom design light and bright.
4. Get creative with storage
Another thing that will make a space feel even smaller than it is is clutter. You'll want to avoid cluttering your counter space with all of your daily essentials or keeping too many towels and decorations in the bathroom. It's best to keep only what you absolutely need and opt for more counter space whenever possible. An easy space hack: extend your countertop over the toilet. This creates a small ledge for toiletries, candles, or anything you might want to have on hand and frees up space around your sink while utilizing otherwise wasted space. Opt for a vanity with storage and consider a floating vanity to free up floor space and create the illusion of less clutter. In this case, it may well be worth it to splurge on a custom cabinet or a custom-made bathroom vanity to correctly fit your needs and your space.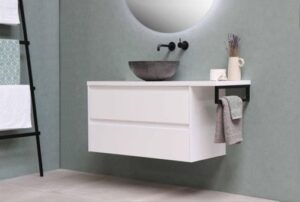 A good rule of thumb for any small space is to add the largest mirror you can. This creates the illusion of a bigger room. However, there are also less obvious sources of reflectivity (the bouncing of light around in a room) which creates a feeling of a larger space. This can be things like high gloss fixtures, bright and shiny countertops, and large glossy tile backsplashes.
A small bathroom is not a remodeling dealbreaker, it just takes a little bit of intentional designing and creativity to make the most out of your tiny bath! If you're struggling with ideas, consider reaching out to your local bathroom contractors. If you're in the Orlando area, Nu Kitchen Designs has your back! As one of the area's best bathroom renovation companies we've worked with spaces of all sizes and can guide you through selecting the appropriate tiles, fixtures, backsplashes, and vanity for your space.