Imagine walking into your dream kitchen, your eyes instantly drawn to the stunning flooring that not only exudes elegance but also effortlessly blends with the overall décor. That's the power of flooring in kitchen renovations.  
We will guide you in enhancing your Orlando apartment's kitchen renovations with breathtaking flooring choices. Moreover, we delve into the importance of flooring in kitchen renovations and help you choose the perfect floor for your Orlando apartment.
The Impact of Flooring in Kitchen Renovations
Flooring serves as a natural canvas upon which the artwork of your kitchen design unfolds. It can elevate your kitchen's aesthetic appeal, transforming an ordinary cooking space into a culinary masterpiece. Flooring also significantly influences your kitchen's functionality and longevity, while maintenance needs differ with each flooring type. Notably, the floor is a silent partner in creating a cohesive design theme for your apartment, harmonizing every element together.
Factors to Consider when Choosing Flooring for Orlando Apartment Kitchen Renovations
Your lifestyle and usage patterns, including your love for cooking or frequency of entertaining, should guide your flooring choices. The budget also plays a crucial role. Luckily, there are myriad cost-effective flooring options without any quality compromise.  
Durability and maintenance are also critical, with a need for flooring materials that resist daily wear and tear. Ensure the flooring harmonizes with your kitchen's design elements, such as cabinets, countertops, and appliances. Finally, take notice of Orlando's climate conditions. Your flooring should withstand local weather variations. 
Popular Flooring Options for Orlando Apartment Kitchen Renovations
In the context of kitchen renovations, flooring plays a crucial role in both aesthetics and practicality. Navigating through the sea of options can be overwhelming, but understanding each option's key strengths and drawbacks can significantly streamline your decision-making process.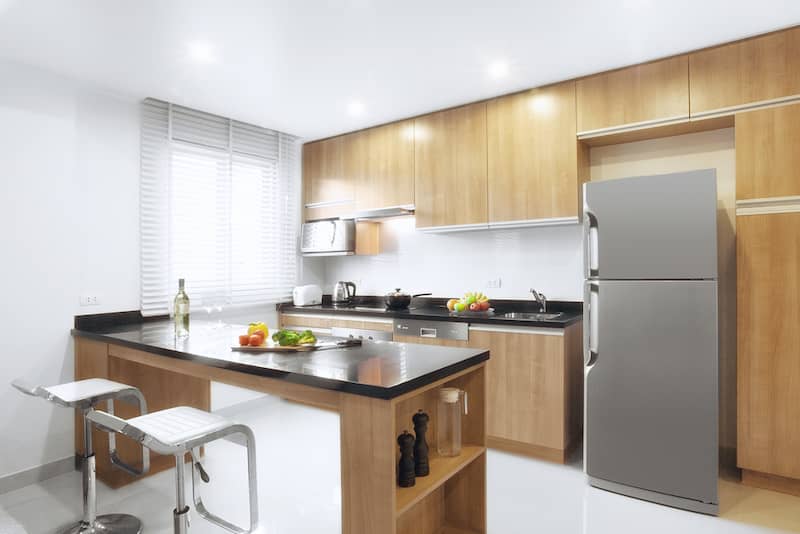 This section delves into some popular flooring options suitable for Orlando apartment kitchen renovations, namely hardwood, tile, laminate, and vinyl flooring. Each of these flooring types has unique characteristics that could make it the perfect fit for your revamped culinary space. Let's take a closer look. 
Hardwood flooring brings warmth and timeless beauty to your kitchen remodel. Choose from varieties like oak, maple, or cherry for your Orlando apartment's kitchen renovation. Remember, hardwood floors require regular cleaning and refinishing to maintain their luster. 
Tile flooring is a go-to choice for kitchen renovations owing to its durability and versatility. Ceramic, porcelain, or natural stone tiles are popular in Orlando apartments. Regular grout cleaning ensures your tile flooring continues to dazzle. 
If you're seeking the appeal of hardwood or stone without the hefty price tag, laminate flooring is your answer. Many laminate options are ideal for kitchen renovations in Orlando apartments. This easy-to-install flooring option requires regular cleaning with a dust mop or vacuum. 
Vinyl flooring impresses with its affordability, resilience, and array of designs. It is suitable for kitchen renovations in Orlando apartments, offering a waterproof solution. Regular sweeping and occasional deep cleaning keep your vinyl flooring looking its best. 
Tips for Ensuring a Successful Flooring Installation in Your Orlando Apartment Kitchen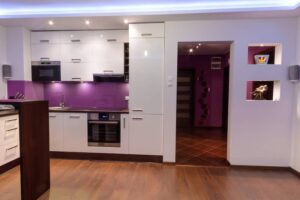 Ensure a successful installation by assessing the subfloor condition and moisture levels pre-installation. Always pay attention to the expertise of professional installers; their skills guarantee a seamless installation process. Also, understand the installation timeline to manage your expectations and make necessary arrangements. Finally, adhere to the care and maintenance instructions post-installation to keep your new flooring pristine. 
Trust Only the Experts in Doing Kitchen Remodeling
The flooring choice significantly impacts your kitchen's aesthetics, functionality, and longevity. Choosing the right flooring for your Orlando apartment will transform an ordinary kitchen into a culinary paradise. At Nu Kitchen Designs, we encourage you to explore options and make informed decisions to realize your dream kitchen. Start your kitchen renovation journey today and experience the transformation a carefully selected floor can bring. Let us partner with you in this exciting endeavor. Connect with our expert kitchen remodelers, and let's get your dream kitchen to life!