Kitchen remodelers like us are always looking to create unique spaces and make your dreams come true no matter the size or budget of your project. At Nu Kitchen Designs we value projects in which we can use our creativity and add a wow factor to your home that will be a conversation piece for years to come. In particular, we delight in showing homeowners what is possible within their small spaces. Creating a beautiful small space is about a couple of key tenets; maximizing light, storage, and space (obviously). A modern kitchen renovation will typically focus on statement pieces of lighting and bold cabinet colors, however, in a small space, these same tactics may not lend the best look, and instead make the space feel cluttered, dark, and cramped. 
So how do you create space within a limited space? In particular, how are we to do this in a kitchen, where large bulky appliances are not only non-negotiable but also the central focus of the room? Custom kitchen designers have a few tricks up their sleeves, however, the best-kept secret of all is the tactic that makes these eye sores disappear; a concealed room/door. 
So what exactly does this mean?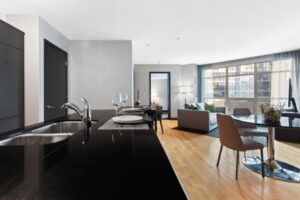 You probably already know that when it comes to a small space, a minimalist look is most often the best way of adding a feel of airiness in an otherwise restricted room. However, a large fridge, stove, sink, and microwave can have a hard time blending into the minimalist look and draw the eyes away from the clean design. Enter; hidden cabinets. 
Hidden cabinets blend into the kitchen design and create a unified look that makes the kitchen feel open and bright, and conceals bulky appliances. A good contractor for kitchen remodels will go over the ways in which you can use custom cabinets to conceal your appliances, your walk-in pantry, or any other storage space you'd like to hide. 
In addition, you can employ the tactic of floor-to-ceiling tile/design to create the illusion of a higher ceiling and therefore more open look, by concealing the door/cabinet under a camouflaged design that matches the backsplash or wall tile.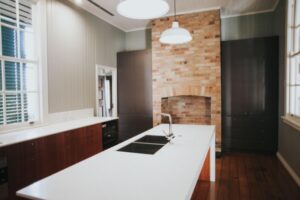 The Hidden Room Kitchen Design
An alternative and exciting use of the hidden cabinet can be to take it a step further and create hidden storage or even a hidden room. While small kitchens tend to feel like they are crammed into a corner of the home, a custom made cabinet can be used to conceal a door to the garage, walk-in pantry, or even section off the kitchen from the rest of the house completely. This will let the kitchen stand on its own separate from its surroundings. 
A layout that works particularly well for a complete hidden kitchen is the single-wall kitchen, in which all appliances are placed along one wall. Talented cabinet door makers will be able to create large cabinet "doors" to conceal the entire wall of appliances so that they may be accessed whenever needed, and otherwise hidden from view so as not to draw away from the remainder of the home or open floor plan. 
Additionally, in older (or smaller) properties, it's common for the kitchen to lead into the laundry room/nook or even a half bath (ew – but it's unfortunately common). This unfortunate layout will make your space feel more like a crowded corridor than a kitchen worthy of a remodel. Kitchen design companies are able to create concealed doors that will section off these undesired areas from the kitchen and increase the aesthetics of your kitchen design while providing the utility of everything adjacent. 
One final way in which concealed doors/cabinets can be incredibly handy in small kitchens is by separating or concealing a dining space. This way the homeowner is able to enjoy both an eat-in kitchen and a cook's kitchen, depending on the desired function. Custom made cabinets can even be made to contain fold-out tables! The possibilities are truly endless, and the best kitchen renovations are a product of careful collaboration between kitchen remodelers, custom cabinet makers, and the client. If you can dream it, we can make it. What do you think we could accomplish together?