Are you seeing yourself flooded with a lot of bathroom remodelers on the internet? Have you caught yourself confused and even overwhelmed by various bathroom remodeling companies? You don't even know where to start? With so many options for bathroom contractors out there, it's tough where to begin. But don't worry; Nu Kitchen Designs got your back. This guide will lead you to a bathroom remodeler who will save your home and bathroom from future problems.
You might be thinking that when you have bathroom projects in mind, doing it yourself or with a few relatives or friends might be fun, and a bathroom remodeling company is not necessary. However, there are specific projects that need to be done by professionals. It is where bathroom contractors come in to do the job right. You may be able to install new cabinets or bathroom countertops with the help of a friend. But when it comes to bathroom remodeling, many aspects, such as bathroom layout, plumbing, and electrical work, need to be considered. It is where experience with bathroom remodelers comes in handy. They will know how to do the job quickly and efficiently while meeting all building code requirements.
 Some bathroom remodeling companies might lowball their quote to get the job. Don't be fooled by this! Inexperienced bathroom contractors might take twice as long to complete the job and cost you more in the long run.
Tips for Choosing a Reliable Bathroom Contractor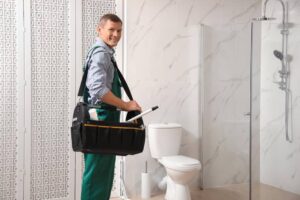 Begin with people you're familiar with
The best bathroom remodelers are those who come highly recommended by people you trust. Ask recommendations from your friends, family, and neighbors for bathroom contractors in the area. Once you have a list of their names, research to find out more about each.
Another way to find bathroom remodelers is to check online reviews.
You must be keen on positive and negative comments when referring to reviews. It's also a good idea to check out the bathroom contractor's website and social media pages to see what others say about their work.
Make sure the bathroom remodelers you're considering are licensed and insured. It is crucial in case something goes wrong during the remodeling process.
You can also check if the bathroom contractor belongs to professional organizations. It says well how serious they are about their work and stay up-to-date with the latest industry trends.
The contractor's experience matters when it comes to bathroom remodeling. You want to ensure the bathroom contractor you choose has a good amount of experience with the project you're planning. For example, if you're planning a major bathroom renovation, you'll want to hire a bathroom remodeler with similar project experience. On the contrary, if you're looking to make some minor changes, you might be able to hire a less experienced bathroom contractor.
Check out their turnaround time
Turnaround time is essential when you're hiring bathroom remodelers.
You want to make sure they will be able to complete the job promptly.
To get an idea of their turnaround time, ask for a schedule of their previous projects. It will give you an impression of how long it takes them to complete a bathroom remodeling project from start to finish.
When you're ready to hire bathroom remodelers, get several quotes.
It will help you in making a comparison of the project's cost and help you find the best value for your money.
In the end, you don't want somebody ruining your bathroom and not being able to finish the job or doing a terrible job that you must pay someone else to redo.
Hiring bathroom remodelers might cost more upfront, but it will save you time and money in the long run. So when you're ready to start your bathroom remodeling project, keep these tips in mind to find the best bathroom contractor. But don't look any further. Nu Kitchen Design is a reliable bathroom and kitchen remodeling company you can trust! Visit their website today to learn more.