When you're remodeling your kitchen, one of the most important decisions you'll make is choosing quality cabinets. After all, they will be a focal point in your kitchen and set the tone for the entire room. So, what should you be conscious of when purchasing cabinets? Does your kitchen remodeling company discuss the different styles, quality of woods, and door details they offer? If not, you must be cautious. Here is some consideration when choosing quality cabinets from your cabinet makers.
Don't overlook this small but essential detail. Hinges should be made of quality materials and should be adjustable. It will ensure that your doors permanently close properly and with easily fixed alignment if necessary. Watch out for cheap hinges made of plastic and non-adjustable. They can get loose over time and cause your doors to sag or not close properly.
Just like hinges, you cannot overlook drawer slides as an essential detail. They play a significant role in the quality and function of your cabinets. Look for ball-bearing drawer slides for smooth operation. Avoid plastic or nylon slides, as they tend to break easily and aren't as durable. Slides should be mounted securely to the sides of the drawer box. It will ensure they don't lose over time and cause the drawer to fall out.
If you spot particle board or fiberboard for the cabinet doors, beware! These materials are not as durable as solid wood and can easily warp or become damaged. In addition, ensure that the doors are attached to the frame with screws instead of nails. It will guarantee that they don't come loose eventually.
The back panels of the quality cabinet must be the same material as the rest of the cabinets. It ensures they're durable and won't warp or become damaged. Be wary of cabinets with thin, flimsy back panels made of particleboard or fiberboard. These are more likely to warp or become damaged over time.
 When it comes to quality cabinets, pay close attention to the details. These particular details can make a big difference in your cabinets' overall quality and durability. If you're unsure what to look for, ask your cabinet manufacturer. They should be able to drive you in the right direction and help you make choices.
Choose a Reliable Maker of Quality Cabinets
It doesn't stop with the details of the cabinets. Quality also comes with the craftsmanship and dependability of the manufacturer. Look for a maker willing to give you a warranty on their products. It shows that they're confident in the quality of their cabinets and are willing to stand behind them. Also, make sure to choose a cabinet maker who uses quality materials. Solid wood is always the best choice for durability and longevity. You can look over how they pay attention to the details of the cabinets they make, like the way they assemble and finish their products. It will give you an idea of how your cabinets will look once installed in your kitchen.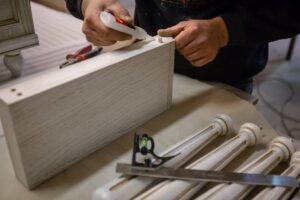 Don't compromise any missed chances of having quality cabinets for your kitchen. Be wary about these red flags and choose a reliable cabinet maker to avoid any regrets in the future. Nu Kitchen Designs is one of the quality cabinet manufacturers you can trust. They never put the quality of their cabinets on the back burner, whether for kitchen or bathroom remodeling. Plus! They customize according to your preferences. So, what are you waiting for? Go and visit their site today or call them and get a free quote!