It's every homeowner's dream to have a beautiful and functional kitchen that meets all of their needs. But often, off-the-shelf kitchen cabinets just don't cut it. That's why hiring a custom kitchen cabinet maker is a great idea – they can create specifically designed cabinets for your kitchen, ensuring that you make the most of your space.
You can utilize most of the space in a kitchen for food, cups, plates, cooking ingredients, and other essential kitchen goods if equipped with the most effective kitchen remodeling techniques, such as cabinets. You may do this by hiring a kitchen cabinet maker to help you achieve your desired aesthetic. You can avoid several typical problems by using cabinets to match your kitchen's layout and style.
A general cabinet readily available in most kitchen and department stores is not always the correct size. It often leads to wasted space as you try to make do with what you have, which can be frustrating. But when you work with a custom kitchen cabinet maker like Nu Kitchen Designs, there is much more to no wasted space that they can provide, worth every penny.
Working with custom kitchen cabinet makers is top of the list because you get a say in everything from design, colors, and materials. Your choices are limited when you buy a standard cabinet from a department store. With custom cabinets, however, you have the freedom to choose features that matter most to you. If your dream kitchen involves specific functions not provided by standard cabinets, then going custom is the way to make it happen.
It's comforting that your custom closet or cabinet is a signature work from a cabinet maker with a track record for excellence. Years of expertise dealing with various kitchen designs and materials result in quality. Being in the business for a long time has honed their skills in dealing with all sorts of kitchen layouts and styles. They understand how to manage any space problems, such as uneven walls and tight spots, and can provide you with the most satisfactory answer for your kitchen. In return, you will have the contentment knowing that your kitchen is well taken care of.
Made with Care and Attention to Detail
When you purchase a kitchen cabinet from a department store, it's easy to assume that the attention to detail and the same level of care went into its creation as with a custom kitchen cabinet. The truth is, however, that mass-produced cabinets usually came with lower-quality materials and less-than-perfect craftsmanship. On the other hand, custom kitchen cabinet makers take pride in their work and pay close attention to every detail – ensuring that your cabinets will last.
Steer Clear of Costly Pitfalls
Of course, one of the crucial reasons to invest in custom kitchen cabinets is to avoid the numerous problems that come with buying off-the-shelf cabinets and DIY. Making a cabinet isn't simply about calculating how many materials from boxes to screws you'll need. It takes significant expertise to produce it from the bottom up without making any errors.
Have you heard of DIYers having difficulty with mismatched doors, wobbly legs, or drawers that don't align properly? They didn't consider the many factors that kitchen cabinet makers expertly account for. As a result, they spend more time and money fixing their mistakes than if they had to get a professional in the first place.
Works Well with Other Furniture Items
The great thing about working with custom cabinet makers is they can make adjustments to ensure that your kitchen cabinets will perfectly complement the rest of your kitchen's furniture. Suppose you have special kitchen appliances, an oddly shaped kitchen, or want to incorporate custom features such as wine racks and pot drawers. In that case, working with a kitchen cabinet maker is the best way to get precisely what you want.
Custom kitchen cabinet makers understand that the kitchen is one of the most used – and abused – rooms in any home. Because of this, they build cabinets using high-quality materials that can withstand years of use and abuse. It means your cabinets will be easy to clean and are less likely to suffer from nicks, scratches, and other wear and tear.
For example, if you are the type of person who cooks with fresh ingredients, then you'll want cabinets made of materials that won't absorb food odors or harbor bacteria. Kitchen cabinet makers can use special finishes and coatings that make cleanup a breeze and help keep your kitchen safe for cooking.
Kitchen Cabinet Makers Provides an In-Home Consultation
One of the happiest parts about hiring a custom cabinet maker is to work with them in person. Yes! You read that right. Kitchen cabinet makers provide an in-home consultation. It is to help them better understand your kitchen's current layout, what you hope to achieve with the remodel, and your budget for the project.
They will also take measurements of your kitchen space and note any problem areas that need solutions. It is essential in kitchen remodeling because it allows them to create a custom solution that fits your kitchen perfectly.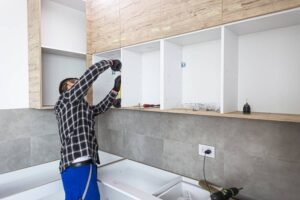 Investing in custom cabinets is an excellent idea for any homeowner wanting to ensure correct kitchen renovation. You'll not only get cabinets built to last but also avoid the numerous hazards of off-the-shelf cabinets or doing your kitchen makeover yourself. Don't let doubts stop you! It's almost Christmas, so it's time for a kitchen makeover for yourself. Give yourself an interior makeover with a kitchen remodeling contractor with a reputable kitchen cabinet maker – NU Kitchen Designs!